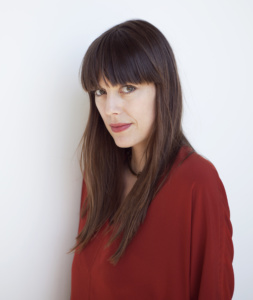 Adrienne Butikofer is a fashion designer in Toronto. She is in an avid seamstress and pattern maker with designs that are playful, colourful and graphic. Her career so far has been an immersive learning experience in local, small batch manufacturing, branding, and e-commerce. Alongside her own projects, she has worked as a wardrobe stylist for film and television and as a freelance fashion designer for other individuals. She currently lives and works in Toronto's Junction neighbourhood. Her work is shipped regularly to online customers around the world. 
Career highlights from the present to the past- 
2019- Moved into a combined studio and storefront, store opening April 2019.

       

2019- exhibited at 15th consecutive One of A Kind Show in Toronto.
2017- Launched the rebranded Skinny Sweats as OKAYOK at Re\Set in September.
2016- began making OKAYOK's well loved socks with a local factory; dyed to match each collection.

 

2016- attended the Etsy Up conference in Brooklyn, New York.

 

2016- began self-taught experimentation with heat-applique vinyl printing with own equipment in studio.
2015- began self-taught experimentation with sublimation printing with own equipment in studio.
2014- began manufacturing the Skinny Sweats brand with Toronto-milled fabrics and unique colour stories created with a local garment dye process.

 

2012-2017- Skinny Sweats became a full collection of creative loungewear, selling online and in boutiques across Canada.
2012- Exhibited at the One Of A Kind Show in Toronto for the first time with both Skinny Sweats and Butikofer branded work.

 

2011-12- Launched singular product brand Skinny Sweats, based on a well-cut basic pant sold under the Butikofer label since 2007.

 

2011- Had second daughter.
2009- Had first daughter.
2009- Had an expensive learning experience of taking the Butikofer Fall 2009 collection to a tradeshow in Las Vegas during the peak of the recession.
2007-2008 – finalist in the Toronto Fashion Incubator's New Labels Competition with first collection of womenswear under the label Butikofer, which continued for three seasons.

 

2007- Exhibited a collection inspired by Wind at the inaugural Nuit Blanche in Toronto.

 

2007- Voted Toronto's Up & Coming Designer by the readers of Now Magazine.

 

2006- Winner of Now Designer Challenge with newspaper dress design.

 

2005-2007- created and manufactured a winter accessory line called Caninja made entirely from outrageous vintage sweaters. The line was sold online and in boutiques in Toronto, Winnipeg and Montreal.
2004-2007- Sewed one-off garments from found fabrics and reworked vintage and sold them at indie boutiques around Toronto and at The Clothing Show. Maker highlights included silk screened and sewn surface treatments, in both knits and wovens.

 

2002- Spent a semester interning for an indie fashion label in Berlin, Germany. Learned how to silk screen.
2000-2003 – Completed the Fashion Design Program at Fanshawe College in London, Ontario. Moved to Toronto following graduation.
1980s/90s- began sewing at age nine and making clothing in high school, while growing up in Winnipeg.